This Article concerns features available in the following applications: PDF Pro; PDF Creator; PDF Reader; PDF Writer; PDF Editor
There are times when you might want to reduce the size of your PDF document. This might be when you need to store or transfer the PDF file to someone else. PDF Pro has 2 tools which might be able to reduce the file size of your PDF file. Please note, however, that results will vary depending on the PDF file you are trying to compress.
Option 1: use the "flatten file" tool: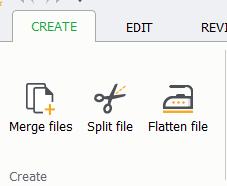 Step 1: Open the document you wish to compress. Under the create tab, click on "flatten file"
Step 2: Configure the settings. You have control over what interactivity you are willing to lose in order to reduce the file size. Additionally you can save the output to a new file or replace your existing file.
Step 3: Press "create" and the flattened file will be opened. You can compare the file size by going to "File > Properties"
Option 2: Use the PDF/A tool

PDF/A is an ISO standard for storing PDF files. Often times this will strip some data from a document and could make it lightweight. If the flatten tool did not give you the results you were looking for, try the PDF/A tool:
Step 1: open your document inside PDF Pro. Under the Create tab, press "To PDF/A"
Step 2: Select the conformance version, and press create.
Please feel free to contact our customer support in case you have other PDF-Creation related questions. We typically respond to tickets within 24 hours.